Community
The Meaning of Community at Schoolhouse
By Anuska & Hitansh | Tuesday, February 8, 2022
The word "community" can mean a lot of different things to different people. To some, it might mean their local book club; to others, it might mean a group of friends from work. Communities can also serve different purposes, from organizing the next Christmas celebration in the neighborhood to working on a startup.
Here at schoolhouse.world, we've connected tutors and learners from across the world to put together a lively global community. Here's how Mariah, the Head of Community at Schoolhouse, describes what our community means to its members across the platform:
"I think the best aspect of the community at Schoolhouse is how everyone is so focused on uplifting each other rather than competing. As a group, we're able to see just how much farther we can go and how much more fun we can have along the way when we share the journey of learning and growing with each other."
Why is Community Important?
The impact of a community, especially one as large and diverse as the one at schoolhouse.world, cannot be underestimated. The benefits of a community go beyond establishing a camaraderie between individuals.
Bringing Social Change
Communities are the grassroots of change. Behind every historical movement was a driven community of people who wanted their voices to be heard. It's hard to imagine the state our world would be in today if Rosa Parks would have been the only person to raise her voice against discrimination, or if Gandhi would have been the only Indian who wanted independence. A community is an instrument that people can use to amplify their voices, and make sure it reaches the masses. But there's also a flipside: sometimes communities can be used to promote violence, disrespect, mistrust, etc. among others. The social power of a community is a powerful weapon, and we need to make sure we wield it wisely.
Reducing Implicit Biases
Even when a community is not actively pushing for change, it is capable of bringing about subtle, positive impacts. An example is the reduction of implicit biases. Implicit biases are preconceived notions (positive or negative) that we hold against an individual based on their age, gender, cultural background, etc. Implicit biases are very different from racism; while racism involves active prejudice and/or discrimination against a social group, "implicit" biases are most commonly subconscious, and are hard to recognize. A majority of people fall prey to these biases, and there is no shame in accepting and working on removing them. For example, when I first joined Schoolhouse, I assumed that people who spoke English with heavy accents might not be very fluent. I did not look down on them, or treat them any differently than I might treat others. But this "implicit" bias did persist in the back of my mind. As time passed and I got to interact with members of the schoolhouse.world community from different parts of the world and with different accents, be it in sessions, on the community forum or over Slack, this bias of mine was proved wrong time after time. Thus, being part of a vast community led me to rethink my notions, and remove my implicit biases.
As a community gives people from different ages, cultures, etc. a chance to interact with each other on a personal scale, it improves the social exposure of each individual in it, thus helping reduce biases and create a positive worldview.
How is schoolhouse.world a community?
On the surface, schoolhouse.world is just a free peer-to-peer tutoring website. However, we stand for so much more. Behind every math session is a lively community of tutors, learners and volunteers from across the globe, all having at least one thing in common- their drive for education. The need for, or the want to impart, education is what brings people to the platform. This was, and remains, the core idea behind schoolhouse.world - connecting the world through learning. Becoming a part of this community not only helps members find and connect with other who have shared interests, but also helps them discover new interests and engage in new conversations.
What are the different elements of the schoolhouse.world community?
The members of the schoolhouse.world community interact with each other in a variety of different ways. Be it the classic learner-tutor interactions in sessions, seeking homework help over the community forum, playing games and trivia during community events, or talking to other volunteers over the Slack workspace, our community fosters a multitude of interesting, engaging conversations that are difficult to find elsewhere.
The idea behind Study Spaces was to create a virtual space where users can come together and study in a quiet place, while holding themselves accountable for their actions. We had no idea how successful this idea would turn out to be. Study Spaces prove that a little lo-fi music accompanied with people in a group setting is a great environment to concentrate in. If you have not attended a Study Space yet, head over to the Study Spaces series page and join one today!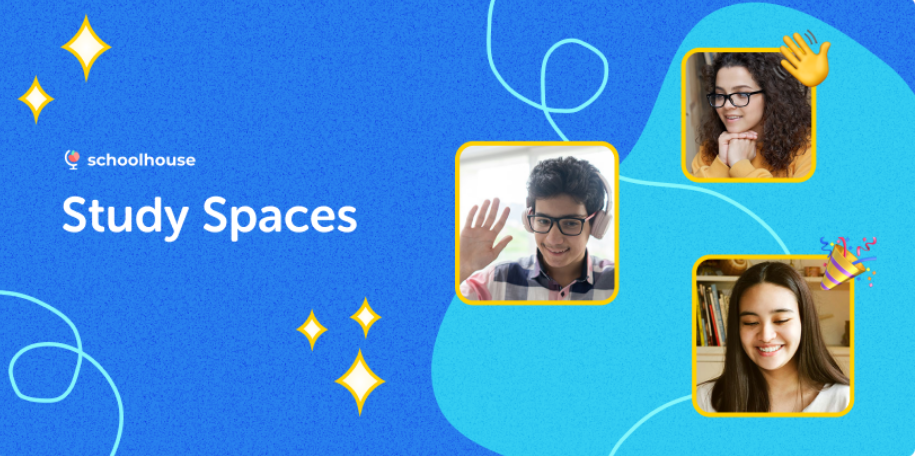 The community forum is still a budding aspect of the schoolhouse.world community, but it is getting more active day-by-day. Be it the homework help page where a lot of people have gotten the help they needed or the General page which is home to several fun, interesting discussions, it shows how people from various backgrounds, countries or any other walks of life can still come together as one community because of their drive for education.

At its core, Schoolhouse is a peer-tutoring platform for Math and other subjects. But that doesn't mean it's all work and no games! Our platform has a special 'Community Events' section dedicated to fun game nights, book club meetings, debates, and so much more. Here's what our COO, Drew Bent, has to say about his experience hosting a series of debates, revolving around fun topics like "Should we colonize Mars?" or "What if we had one language for the entire world?":
It's been one of my most enriching experiences as a tutor on the platform! We often have learners from 4 or 5 countries, and it feels like a "mini United Nations" of sorts. Everyone participates and shares their unique perspective. The depth of these conversations is often much deeper than what I'd even see in my Stanford grad school classes."
An amazing recent community event was the Schoolhouse End of Year celebration, hosted by schoolhouse.worldcommunity members Mariah and Kirill on 18th December 2021. More than 50 tutors and learners from across the platform came together to celebrate 2021 with trivia, fun games, performances and giveaways.
These community events help bring volunteers and learners together and give them a chance to interact outside of math-oriented sessions. You can attend these sessions by signing up here!
4. Slack
For volunteers at Schoolhouse, Slack is where the buzz is. Besides serving as an operating base for all our volunteering efforts, Slack is where volunteers interact with each other, and get to know each other better.
With channels dedicated to everything from books and music to kittens, Slack has it all. In fact, Slack is where this blog post was first thought of, and put together!
A community is what gives us all a sense of belonging, and at the end of the day, we all need a group of people we can interact with and relate to. At schoolhouse.world, we have a community that makes us swell with pride. Together, we aim to uplift each other and spread our resources to those who need it throughout the world, and we'd love for you to join us!
A special thanks to David Rikert, Mariah Olson and Drew Bent for their contributions to this post.